Remembering My Son!
Izaiah Lee Anthony Fair
February 16, 2003-May 13, 2005
http://izaiah-fair.memory-of.com/about.


Izaiah,
I'm remembering the little boy that I birthed into this world.
That was the second best day of my life. The first was when your sister was born.
It's amazing that God loved you and me so much that he gave us to each other.
I remember the moment that you were placed on my chest.
I thought awwwww how cute, but can they wash him off.
They wrapped you up in baby blankets and I said he's so beautiful, Terry who's nose does he have?
I knew instantly that you had my lips. I could not wait to kiss yours.
You were so wrinkly and pale. But you were just so amazingly handsome, cute, beautiful, tiny, and adorable, God's precious gift to me......
I thought this little one was worth every contraction.
I instantly loved you more than life itself.
I was so very proud and honored to meet my very own little man.
I couldn't wait to introduce you to the world; I couldn't wait to introduce you to your sister. I had prepared her for your arrival. But I still wasn't sure that she understood that she now had to share Mommy & Daddy.
But it was still exciting just knowing that we had this amazing addition to our family.
Izaiah, you were a wonderful baby, you weren't that spoiled! You sorta went to anyone!

Ok, you were very spoiled and you preferred Mommy, Daddy, and Bri Sche on occasions.
Patsy thought that you were a piece of cake. The little children at Patsy's house loved you.
Our trips to Maryland were funny! You use to show your behind! You did not like anyone trying to take you out of your Mommy's arms. You use to give my family the blues. Boy you would cry, cry, cry, but once they put you down, you were straight boy. You would be all over the place with your older cousins. You thought you really could keep up. You enjoyed going outside with them playing football, running, laughing, and just being outdoors. You loved the outdoors.
I remember that you loved bath time. With the right amount of toys in the bath you had a ball. Now what you weren't a fan of was bed time. You would cry, cry, cry, unless I laid down right beside you and rub your back until you were asleep. I enjoyed this as much as you did. I really miss going to bed with you, when trying to just put you to sleep.
Izaiah, I miss you're little strut, you had the meanest walk. You were the shortest kid with the meanest walk. Your walk and stand had so much personality. I think you got that from my Daddy. You had the coolest personality. I miss having you in my life just to laugh at your daily growth. Watching you explore this world was such a blessing. You taught me patience more than anyone I know. You taught me not to take life so seriously. But the most important lesson that you taught me, was that tomorrow's not promised. I guess you taught me this the hardest way ever. I wish that lesson would have come at a different time in my life. Because I soooooo was not prepared to learn it that way. I was not ready to give you back to God. But he knows best.
Izaiah, I love you today, tomorrow, and forever.
Love Mommy!!!!!



"Save a Child"

In Honor of


Izaiah Lee Anthony Fair:



Pass on this website to inform everyone

about Window Safety!

Please tell someone, everyone that, due to the changing weather. We will begin to hear news regarding children falling from their windows. I know this to be true because my son Izaiah Lee Anthony Fair fell out of his bedroom window, on May 13, 2005 and did not survive his injuries. He went through the blinds, through the screen, and out of the window. His blinds were closed shut; however his window was open just to get a cool breeze before turning on the air conditioner.
If I only knew, I believe I would have done differently.
Thank You and God Bless.


Isaiah 61:3
To appoint unto them that mourn in Zion, to give unto them beauty for ashes, the oil of joy for mourning, the garment of praise for the spirit of heaviness; that they might be called trees of righteousness, the planting of the Lord, that he might be glorified.







Izaiah,
Mommy had a really hard time this weekend! Hard in meaning that as strange as it may seem. Everyone was right! Time does have a way of healing all wounds. I never imagined in the beginning that I would feel any type of peace in your going home to be with the lord. But because of my desire to allow God to lead me to his peace. Time did just that.
This weekend your daddy, and I went to the beach. I kept seeing you in every little boy that I saw. I kept thinking that you should be here with us. I cried on several different occassions, just because I longed for you to be with me running, and playing, and enjoying the water. You loved playing in the water. I just imagined you running and playing in the sand with one of your balls. Yelling, screaming, and laughing all day. I imagined 4th of July with you. I was sorta wondering if you would still be scared to play with the sparklers. You didn't like them very much. Then I imagined you riding the little carnival rides. I would have loved seeing you smiling and laughing trying to be littlle big boy.

It's funny how, now on most days I just miss you and I go on with my day. But the holidays, really has its way of sneaking up on me and my feelings. I began to feel sorry for myself. I began all the shoulda, coulda, woulda's, and I just get very teary eyed. I realize that I should never shed a tear for you. You would never want to trade places. However, I just always wish things could have turned out differently.
Until I'm able to see you again I will try to remember that you are where I long to one day be. And that when God says so I will be able to be with you in eternity. Mommy loves you so much! 7/10/06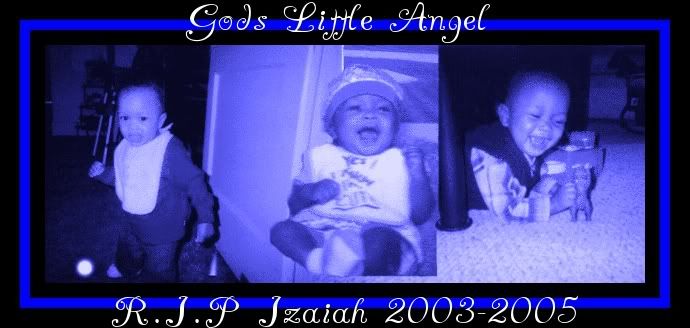 Bereaved Parents Wish List

I wish my child hadn't died. I wish I had him back.

Y
I wish you wouldn't be afraid to speak my child's name. My child
lived and was very important to me. I need to hear that he was
important to you also.

Y
If I cry and get emotional when you talk about my child, I wish you
knew that it isn't because you have hurt me. My child's death is the
cause of my tears. You have talked about my child and you have
allowed me to share my grief. I thank you for both.

Y
Being a bereaved parent is not contagious, so I wish you wouldn't
shy away from me. I need you now more than ever.

Y
I need diversions, so I do want to hear about you, but I also want
you to hear about me. I might be sad and I might cry, but I wish you
would let me talk about my child; my favorite topic of the day.

Y
I know that you think of and pray for me often. I also know that my
child's death pains you too. I wish you would let me know these
things through a phone call, a card or note, or a real big hug.

Y
I wish you wouldn't expect my grief to be over. These first years
are traumatic for me, but I wish you could understand that my grief
will never be over. I will suffer the death of my child until the day
I die.

Y
I am working hard in my recovery, but I wish you could understand
that I will never fully recover. I will always miss my child and I
will always grieve that he is dead.

Y
I wish you wouldn't expect me "not to think about it" or "be
happy". Neither will happen for a very long time, so don't frustrate
yourself.

Y
I don't want to have a "Pity party", but I do wish you would let me
grieve. I must hurt before I can heal.

Y
I wish you understood how my life has shattered. I know it is
miserable for you to be around me when I'm feeling miserable. Please
be as patient with me as I am with you.

Y
When I say, "I'm doing okay", I wish you could understand that I
don't "feel" okay and that I struggle daily.

Y
I wish you knew that all of the grief reactions I'm having are very
normal. Depression, anger, hopelessness and overwhelming sadness are
all to be expected. So please excuse me when I'm quiet and withdrawn
or irritable and cranky.

Y
Your advice to "take it one day at a time" is excellent advice.
However, a day is too much and too fast for me right now. I wish you
could understand that I'm doing good to handle an hour at a time.

Y
Please excuse me if I seem rude, certainly not my intent. Sometimes
the world around me goes too fast and I need to get off. When I walk
away, I wish you would let me find a quiet place to spend time alone.
I wish you understood that grief changes people. When my child died,
a big part of me died with him. I am not the same person I was
before my child died and I will never be that person again.

Y
I wish very much that you could understand ~ understand my loss and
my grief. But, I pray daily that you will never understand.


YYYYYYYYYYYY

--Poem from Compassionate Friends




A PLACE WHERE CHILDREN ARE

What kind of place would heaven be
With all its streets of gold,
If all the souls, that dwell up there
Like yours and mine, were old?
How strange would heaven's music sound
When harps begin to ring.
If children were not gathered 'round
To help the angels sing.
The children that God sends to us
Are only just a loan,
He knows we need their sunshine
To make the house a home.
We need the inspiration of
A baby's blessed smile.
He doesn't say they've come to stay
Just lends them for a while.
Sometimes it takes them years to do
The work for which they come,
Sometimes in just a month or two
Our Father calls them home.
I like to think some souls up there
Bear not one sinful scar.
I love to think of heaven as
A place where children are.

-author unknown






On the night the Angel came and took your hand,
We cried as you left for an unknown land.

But Heaven rejoiced as you came into sight,
For your soul was a diamond, shining so bright!

Now, Whenever the warmth of the sun touches my face,
I shall see your smile and feel your embrace.

And I will forever hear the whisper of love in the wind
And I know that you are close to me again

-author unknown


To all the Parents who have children that have gone to heaven:

We thank you for visiting Izaiah's website. For we know that your road seems unbearable. Trust in the lord, and his word. His word says that he will never leave us nor forsake us. He is always right there open your hearts and mind, and allow the holy spirit to comfort you through this difficult trial. Understand that your child is in the best place, he/she is with their heavenly father. Now it is your goal in life to meet him/her there. I put a song on this website called only for a while. I dedicate it to you. I hope that it comforts you. I would also like to share with you a website that has helped me www.griefshare.com

God Bless you all!


Who You'd Be Today

-Kenny Chesney

Sunny days seem to hurt the most
Wear the pain like a heavy coat

I feel you everywhere I go

See your smile, I see your face

I hear you laughing in the rain

Still can't believe you're gone

It ain't fair you died too young

Like a story that had just begun

But death tore the pages all away

God knows how I miss you

All the hell that I've been through

Just knowing, no one could take your
place

Sometimes I wonder, who you'd be today

Would you see the world

Would you chase your dreams

Settle down with a family

I wonder what would you name your
babies

Someday's the sky's so blue

I feel like I can talk to you

And I know it might sound crazy

Sunny days seem to hurt the most

I wear the pain like a heavy coat

The only thing that gives me hope

Is I know, I'll see you again someday




Izaiah Lee Anthony Fair
:

Izaiah Lee Anthony Fair
was born on February 16,2003 in Cheraw, S.C. to his loving parents Terry Lee Junior Fair and Tomeeka Robyn(Bracy)Fair.

On Friday, May 13, 2005 He departed this life quietly and peacefully at Inove Fairfax Children's Hospital. Izaiah was christened at Pee Dee Union Baptist Church in Cheraw, S.C.

Izaiah and his family later moved to Fredericksburg, Va where they attended services at Strong Tower Ministries.

He was filled with love and joy. There was never a moment where he didn't use his beautiful eyes to get what he wanted. He was not the typical child who liked to sit and watch Barney; Izaiah's favorite channel was ESPN.


He loved to sit and watch football and basketball with his daddy. Everyone will remember him with his football shouting "down, set, hut, touchdown". Izaiah loved the outdoors. He was fascinated with all that life had to offer.





Please Light a Candle in memory of
Izaiah Lee Anthony Fair!
Before you leave this site please light a candle, this helps me to know that Izaiah is still touching lives. That although he went home to be with the lord his memory lives on.


Footprints
One night a man had a dream. He dreamed He was walking along the beach with the LORD. Across the sky flashed scenes from His life. For each scene He noticed two sets of footprints in the sand. One belonging to Him and the other to the LORD.



When the last scene of His life flashed before Him, He looked back at the footprints in the sand. He noticed that many times along the path of His life there was only one set of footprints. He also noticed that it happened at the very lowest and saddest times of His life.


This really bothered Him and He questioned the LORD about it. LORD you said that once I decided to follow you, you'd walk with me all the way. But I have noticed that during the most troublesome times in my life there is only one set of footprints. I don't understand why when I needed you most you would leave me.


The LORD replied, my precious, precious child, I Love you and I would never leave you! During your times of trial and suffering when you see only one set of footprints, it was then that I carried you.


Hi Baby,

In a few days it will be six months, that you went home to be with the lord. This has probably been the most confusing six months of my entire life. You see I am a firm believer in god does not give us what we cannot bear. But it's really hard to understand why god thought that I, your father, Bri Sche', Kenaya, and anyone who ever met you could bear to live life without you. Izaiah I never imagined in a million years that I would have to bury one of my children. I automatically assumed that you both would out live me. Now that god had a different purpose and plan for our lives, I'm finding it difficult to adjust to his will. I miss you so much! It hurts so bad at times. I think of you obsessively. I am sorry that I took having all the time in the world with you for granted.
If I knew that we only had two years to be mother and child together I would have done a few things different.
I would have given you a birthday party when you turned two. We would have taken more pictures of you after you turned two. I would've let you play outside when you cried because you were not finished playing. I would've personally taken you outside, instead of sending you with Bri, or Daddy. I would've let you play in the kitchen with your toys on the floor while I cooked and cleaned. We would've taken a trip to Georgia to see my friends and family there.
Izaiah, there are some things that I would not have change. I would'nt have changed your relationships! You loved everyone after you warmed up to them. Especially Daddy, and Bri. You even grew to love Kenaya although I don't think that you understood that you had another big sister who loved you as much as Bri did. I wouldn't have changed how you would throw your balls all over the house " talking about catch." You use to even throw your pampers to me saying "catch mama." Notice I even let you call me Mama as oppose to Mommy, which I preferred. I would not have changed the fact that you slept with me, and daddy. Although some nights he would put you out. Remember how we use to hide you behind me so you could stay in the bed. You would hold onto my back tight and kick me all night long. But I loved it anyway. I would not change how you would automatically say your prayers at each meal without prompting. And at bedtime how you could not wait until I finished the prayer so you could hurry up and say amen. ( You looked so cute with your hands folded.) I wouldn't change how every evening on the way home from Aunt Mildred's you would wait until we get on the Wilson bridge to say "Wa ta mama" and I would say "yes wa ter baby". Then you would say Dada at home, I would repeat you and then you would say Bi Bi home, and then I would repeat you. Then your would ask about everyone you knew. that would take about ten minutes. I would not change how when we would get home and you would kick me to the curb, and bang on the door for your daddy. you would spend the rest of your day ignoring me and playing with your daddy. Unless you needed to be changed or you wanted me to get you something. I would not change how I use to watch you play with your sister, bossing her around. " Bi Bi this and Bi Bi that". I wouldn't change you juicy kisses, your hugs, those beautiful lashes that women would die for. When I would look into your eyes my heart would just melt. I would not change how you would walk into your class at church like you were a big boy who didn't need any assistance from anyone.
Izaiah what I'm trying to say is that this life will be most difficult without your presence. I loved being your mommy. I'm trusting that God will see our family through this most trying time. I am opening my heart to god and trying to live this hand that I have been dealt. With God's help I know that we will make it. The selfish mother in me wants to lay down and die. But the God in me will live and trust that he is in control and that weeping may endure for a night but joy comes in the morning.
Izaiah you will always live in my heart and mind. I will live a life with much focus and purpose. Until we meet again.
Your Mommy!


Weeping may endure in the night
But joy cometh in the morning.

--Psalms 30:6